Ta-Da!
Made from fabrics in my stash in the happy colours I love. Any surprise there's a dotted binding? ;o)
This is my prototype for the patchwork pillow I designed for
Blogathon Canada (which is happening right through Nov. 23rd - be sure to check it out!)
Remember this sneak peek? ;o)
It was hard for me not to reveal more of this pillow as I was working on it. :o)
Now that I can, I thought I'd share a few details about it.
First up, it's Fat Quarter and pre-cut friendly (so a good reason to try some mini charms or even some charms that you've been admiring at the fabric shop... just sayin' ;o).
Finished size is 18.5" x 18.5" (measured to outside of binding). I free-motioned quilted "holly" leaves onto the 4-Patch blocks and outline quilted around the appliques.
It's also a good opportunity to try some machine applique if you haven't before. I will admit, I wanted a chance to play with my machine embroidery threads and a pillow is not a huge commitment as a project.
Machine appliqued with 40wt. Rayon thread.
So, I sketched up several different ideas for the center of the pillow, but knew I hit upon something good with this applique for the letters. I love the contrast! It really makes the letters pop (depending on your fabrics and threads selected, as you can see from my two versions). Add in the holly leaves with self covered buttons and you have just the right finish.
Machine applique with 40wt Rayon thread and Silver Metallic thread (for added sparkle on the letters).
Going for contrast on the binding was something else that seemed like a good idea. I did however adjust dimensions of the finished binding from the prototype to the final design.
Somehow, it's the little details that always make my heart sing
(just that wee pop of green peeking out on the binding is enough to make me smile).
Then there's the pillow back. Maybe, like me, you like to buy fat quarters for your stash. They are a wonderful way to sample something that has caught your eye, but one isn't enough for covering the back of most pillows. However, two fat quarters will do the trick! :o) A simple French back means the pillow back is easy to sew, easy to use and a perfect way to combine those fat quarters.
My prototype has the fabric placed side by side for a vertical opening - which works fine for non-directional prints. For my final draft, I've adjusted the back opening to be horizontal, so that it will work for directional prints (meaning you can still use your Fat Quarters).
Have I convinced you yet to make one of my pillows? ;o)
Maybe one last picture will do it...
I may have an addiction... ;o)
Would you like to make your own Oh, Joy! Patchwork Pillow?
How about win the fabric to make it?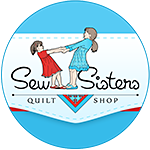 to be entered to win fabric to make the pillow.