A few months ago, I designed a case
(shown here)
, for storing a
Rainbow Loom
, which was a gift for one of my nieces. Turns out, another niece was already whipping up bracelets with her own Rainbow Loom, so it only made sense that she should also have a specially made case.
Rainbow Connection Craft Case in aqua dots and a favourite Amy Butler print (from her Cameo line).
Making my design for the second time allowed for a wee bit of tweaking, but for the most part, not too much was altered.
Although designed to store a Rainbow Loom and the accompanying rubber bands, this case is also suitable for storing other crafty bits and bobs.
Like the original, I've included lots of storage in the form of cargo style pockets on the outside, clear vinyl zippered pockets on the inside lid and finally, the loom compartment (with a Velcro flap) for secure storage
(click here and scroll down to see a photo of the loom inside the compartment).
Pockets and flaps stitched to case and awaiting snap closures.
Details like the pockets, take a bit of extra time, but are so worth the effort. Prior to cutting the exterior pieces for this case, I quilted the fabric to add dimension and to add a little extra stability before interfacing the whole case. There's lots of steps to making this little case, but I find that if you're not in a rush, it comes together without too much difficulty.
A heavy weight interfacing gives the case much needed structure and even allows it to stand on edge like a real suitcase.
The trickiest bit is adding the boxing (the piece with the zipper that makes the sides of the case). This is where it helps to use Wonder Clips to hold it all in place for stitching. Then I use them again for the last step in attaching the bias binding. Love those
Wonder Clips
!
(keep an eye out on Massdrop for a future buy at a great savings of this handy sewing notion)
.
Love the fussy cut label for a bit of personalization!
Just like the first case, I had to add a special "label" to the outside back of the case. A bit of Wee Wander in Summer Ride was fussy cut for my horse loving niece. Hopefully, she'll love using her gift!
For those of you that may be interested, I've plans to turn this design into a PDF pattern for you. Fingers crossed, I will soon be working on the pattern writing and then having it tested to make sure it's as user-friendly as possible. Stay tuned!
I'm linking up this week's special finish with Amanda Jean and friends over at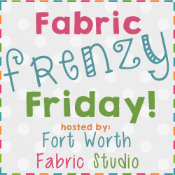 and with
Kim
and friends
for